Seminar cycle 2012/2013
IREA (7 rue des Carmes, Paris 5ème)

Monday, 22 October 2012

Theme 1: The industrial emergency
Speaker: Gabriel Colletis

Monday, 19 Novembe 2012

Thème 1 : Systèmes sectoriel d'innovation : quels enseignements des travaux sur l'agriculture et l'agroalimentaire
Speakers: Jean Marc Touzard, Ludovic Temple
Jean Marc Touzard est économiste, directeur de recherche à l'Inra où il étudie les processus d'innovation dans les marchés et les organisations agroalimentaires, permettant de faire face aux enjeux du changement climatique et la sécurité alimentaire.
Thème 2 : L'innovation dans les industries de Défense : une étude de cas
Speaker: Pierre Barbaroux
Pierre Barbaroux
Centre de Recherche de l'Armée de l'air (CReA)
Responsable de l'Équipe de « Management des organisations de défense » (MOD)
EOAA/CReA
Base Aérienne 701
F-13661 SALON AIR
pierre.barbaroux@inet.air.defense.gouv.fr
Résumé: Cet article étudie comment les acteurs participant à un projet d'innovation collaborative s'organisent pour développer un système technologique complexe. A partir d'une étude de cas portant sur le programme nEUROn, l'article identifie les compétences critiques devant être déployées et coordonnées dans le cadre de la gestion d'un projet d'innovation collaborative. Nous montrons alors que le développement du premier démonstrateur technologique européen d'avion de combat sans pilote (UCAV) a nécessité la mise en place d'une architecture organisationnelle innovante reposant sur la combinaison de pratiques managériales et de technologies de R&D novatrices facilitant la collaboration entre les partenaires.
Key words: Systèmes complexes, Innovation collaborative, nEUROn.



Monday, 10 December 2012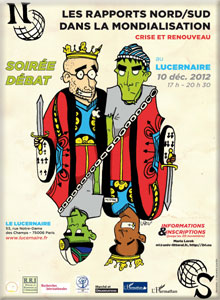 La nuit d'innovation
"Les rapports Nord-Sud dans la mondialisation. Crise et Renouveau"
Conférence-Débats sur la dynamique productive, commerciale et financière de l'économie-monde actuelle, sa crise et les tentatives de restructuration. Comment cette mondialisation est alimentée par les relations Nord-Sud et comment les relations Nord-Sud impactent l'organisation géopolitique et économique mondiale ? Quels sont les thèses et les points de vue des économistes et politistes du Sud? Quelle sortie de crise avec quelles nouvelles relations internationales?
Soirée co-organisée par la revue Recherches Internationales, l'Université de la Paix et le Réseau de Recherche sur l'Innovation
Table ronde -débats- Théâtre du Lucernaire – Paris


Monday 21 January 2013

Theme 1: The territorial determinants of growth
Speaker: Nadine Levratto
Theme 2: Economic development
Speaker: Antonin Michelet

Monday, 18 March 2013

Theme 1: Creative city
Speaker: Stéphane Goria
Theme 2: Eco-innovation & eco-design in industrial companies
Speakers: Blandine Laperche, Fabienne Picard

Monday, 13 May 2013
Theme 1 : Bankruptcies law
Speaker: Clotilde Normand
Theme 2: ICTS, sustainable development and territorial strategy: the case of the urban and sustainable cities
Speakers: Amel Attour et Marc-Hubert Depret

Journée Innovation 2013
Quels modèles d'innovation pour les PME industrielles ?
Organiser : INSA, RRI
Monday, 10 June 2013
Amphithéâtre Émilie du Chatelet, dans la nouvelle bibliothèque de l'INSA de Lyon

All RNI Seminars